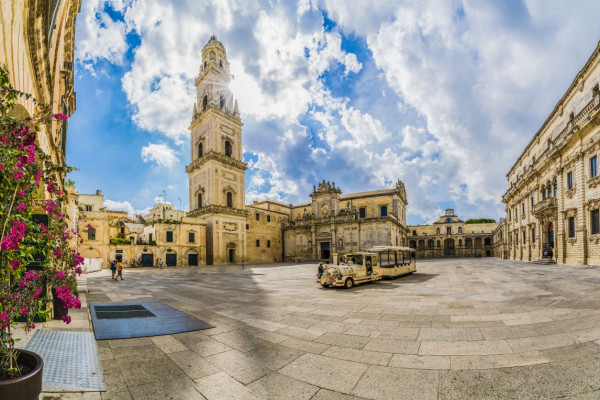 If you are in Puglia, you absolutely must visit Lecce. Here, you will find the history of the region's Baroque art excellence, permeating throughout its historic churches and palaces, yet embedded also in its most ancient soul, dating back as far as Roman times.
Discover the elegance of this place
Admire the ancient art of papier-mâché
Breathe the baroque atmosphere
Included

Local tour guide 

Duration
2 Hours
Bring along

⇒ WHAT TO PUT IN YOUR BACKPACK: Besides your desire to discover and learn about the history of Lecce, wear comfortable clothing and shoes, and bring your cell phone or camera as you will want to capture these most important monuments during your vist. We'll take care of the rest.

Languages
English
Opening hours
Requirements

⇒ THIS TOUR IS FOR lovers of culture and art, who enjoy walking around historic centres discovering their beauty and characteristic places.

Important information

⇒ YOU WILL BE THRILLED to discover the elegance and refinement of a city that echoes history and art, in a historic town centre, which is almost entirely a designated pedestrian zone. During your stroll, you will come across many artisan shops, which produce artifacts practicing the ancient art of papier-mâché.

 

⇒ WE GUARANTEE that you will be fascinated by this city and live a fully authentic and engaging experience, and it will be love at first... visit.

 

⇒ HIGHLIGHTS We will meet in Piazza Sant'Oronzo with the guide where the Spire of the Patron Saint is located. From here we will begin our journey witnessing Lecce's Baroque beauty as well as admire the historic influences from the Roman era, such as the Duomo, the Basilica of Santa Croce, the amphitheatre and the Roman Theatre, the exterior of the Castle of Charles V and numerous facades of various ancient buildings.
Venue
Caffé Alvino Bar
Piazza Sant'Oronzo, Lecce, LE, Italia
Offered by
TURISTI IN PUGLIA INCOMING SNC
73100 - Lecce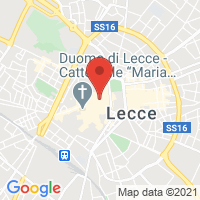 Further information
Why visit the centre of Lecce?
The history of Lecce is very old and the first settlements date back to the Messapian era, before the arrival of the Romans, when they Latinized its name in "Lupiae" and made it "Municipium". An important destination on the guided tour is the Roman amphitheatre of Lecce. The Baroque period is one of maximum splendour and grandeur. Today Lecce is among the most visited cities in Puglia.
What to see in Lecce?
Lecce is a people-oriented city which makes its historic town centre where all the main tourist attractions are almost completely a pedestrian zone. You can leave your car in the designated parking lots and enjoy a relaxing stroll while following our guide. The visit is conducted in complete safety, following all the guidelines provided by the ministry of Health. All tour groups will be small and both participants and the guides will wear a mask during the tour. The tour meeting point is in Piazza Sant'Oronzo.
How long does it take to visit Lecce?
The duration of the visit is 2 hours and takes place mainly outside, between historic palaces, the Castle of Charles V and Baroque churches, such as the Basilica of Santa Croce and the Duomo, with its magnificent squares and many other small churches that you can also visit inside. 
Guided tour of Lecce: online booking of visits
To book your visit, you simply need to use the online booking system by choosing the date and time you prefer, either a morning or an afternoon shift. On hot summer days, we suggest a visit at 6 p.m. so you can catch a stunning sunset during your tour. There are no additional costs on the tour.
Guided tour of Lecce: what to see outside of Lecce
We recommend that you stay in Lecce for at least 2 nights. We can also help you book a complete package with overnight stay in hotels in the historic centre.From Lecce it will be easy to reach other places, such as Otranto on the sea, which can be visited with a guided tour and then afterwards you can spend the day at the beach. Further south, you cannot miss Gallipoli and Santa Maria di Leuca where you can book a 90-minute boat ride to discover the coast and its bays.
0 Reviews
Unfortunately there are no reviews available. Be the first to review Lecce guided tour.
know betterbook bettergo better
TripAdvisor Traveler Rating
50 Reviews
More offers from this partner