Accessible Apulia: 5-day vacation in a rickshaw and Apecar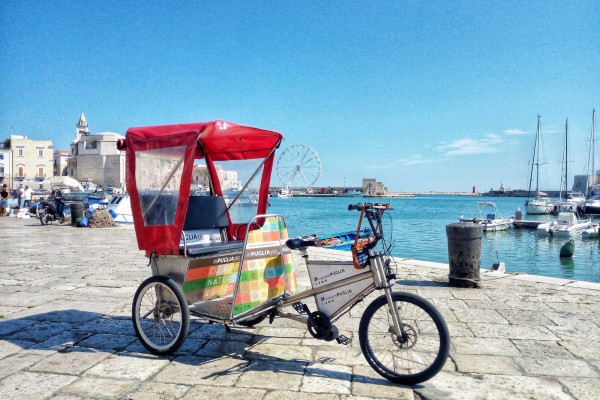 An itinerary "without barriers" that wanders through the most fascinating destinations of Puglia.
Visit wonderful places with the convenience of rickshaws and apecar.We'll take you around Bari, Matera, Alberobello, Cisternino, Locorotondo, Ostuni. This Puglia package will enable you to take most of your trip without having to walk too much.
Stay in authentic Bari, discovering the ancient city on board a rickshaw.
Stay overnight in Matera
Discover Alberobello with its famous trulli, the town landmark
Included

4 nights in 3/4 star hotels (1 night Bari, 1 night Matera, 2 nights Alberobello)
Qualified tour guides
Tour in apecar of Matera 
Apecar tour of the villages of the Itria Valley (Locorotondo, Cisternino, Ostuni)
Rickshaw tour of Bari
Guided tour in Alberobello
Transfer from Matera to Alberobello
Transfer from Alberobello to Ostuni and vice versa

Not included

NOT INCLUDED: Dinners and anything not specifically mentioned

Duration
5 Days
Bring along

⇒ WHAT TO BRING IN YOUR SUITCASE: for this accessible 5-day tour of Puglia, you just need to bring comfortable clothes suitable for the season and certainly a good cell phone to take good pictures.

Languages
English
Opening hours
Requirements

⇒ THIS ACCESSIBLE TOUR IS FOR those who want to visit in a different way the most famous places in Puglia with a detour by the beautiful Matera. If you're looking for an organized vacation for you and your family that allows you not to drive, then this Puglia package is for you.If you can't or don't want to walk, you will still be able to visit villages and small towns thanks to our rickshaw and apecar with audio guides.If you are looking for relaxation, peace, fun, discovery and memorable moments come with us...

Important information

⇒ YOU WILL BE THRILLED to come upon magnificent Unesco sites such as the trulli of Alberobello or the cave houses of Matera. You will be struck by the enchantment and the sheer beauty of the Itria Valley villages. You will be captivated by the folklore and authenticity of Bari, while in the old town. You will enjoy not having to drive and letting our chauffeur take care of everything.

 

⇒ WE PROMISE YOU a carefree vacation, filled with fun, comfort and relaxation. You won't have to worry about anything. Our local tour guides, moreover, will always be at your side to help you uncover the secrets of Puglia. It will be a comfortable trip, within everyone's reach. Besides, you will not miss out on any of the main sites of attractions, tastings, nature and art. In short, you will just have to focus on enjoying your stay.

 

⇒ TOUR IN BRIEF: This accessible 5-day Apulia tour starts and ends in Bari, Puglia's capital where most air and rail connections are located. You'll stay in authentic Bari, discovering the ancient city on board a rickshaw. You will then have the opportunity to sleep in Matera. There at night, you will be transported to another time, a time made out of magic.The apecar tour of Matera will allow you to admire this fascinating place without the hassle. You will stay 2 nights in Alberobello with its famous trulli, the town landmark. Your stay there will give you the opportunity to discover the enchanting small towns of the Itria Valley among expanses of olive trees and red earth, dry stone walls and bright white villages. You will visit enchanting places in the company of local tour guides.Transfers to all your destinations will depart from your hotel.

 

ACCESSIBLE APULIA FORMULA HOTEL + GUIDES + TRANSFER

€ 1250 per person in double room

€ 1400 per person in single room

 

Supplement for 1 night in Lecce + rickshaw tour in Lecce € 250 per person

Discounted rates for groups by sending us a request to our e-mail or writing us on whatsapp

 

HOW TO BOOK AN APULIA ACCESSIBLE PACKAGE TOUR :You can book online by selecting the date from the shopping cart or by paying a deposit of € 100 upon confirmation. You can then pay the rest of your balance 15 days before departure. For this second way of booking, please contact us by e-mail or on Whatsapp.We remind you that the tour is guaranteed with a minimum of 2 people to a maximum of 6.

ACCESSIBLE PUGLIA CANCELLATION POLICY:Free up to 15 days in advance. 50% penalty for later cancellations.

 
Venue
BARI
Bari Stazione Centrale, Bari, BA, Italia
Offered by
TURISTI IN PUGLIA INCOMING SNC
70123 - Bari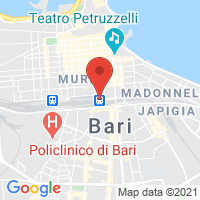 Further information
DAY 1 : arrival in Bari and rickshaw tour
DAY 2 : transfer to Matera and tour by apecar.
DAY 3 : transfer to Alberobello and tour of the city of trulli
DAY 4 : tour in Apecar in the Itria Valley (Locorotondo, Ostuni, Cisternino)
DAY 5 : end of tour in Bari
Accessible 5-day Puglia organized vacation: why it's worth it
Once one makes up his mind to go on a vacation, one always starts with endless research, through maps, reviews, discounts, offers. Our advice, watch out for scams....Then one usually tries to create an itinerary, match dates, stays, places to visit and other things to do.If it goes well, one will have spent hours and hours on the computer. Once on vacation, one usually gets busy supervising and making sure everyone is following the planning. One ends up twice as tired and sees only a fraction of what was initially planned.We bet it has happened to you before. Our job is to simplify everything for you, to let you save time and effort and optimize every single aspect of your vacation. We will give you all the exclusive access and insights ...In addition, with this Puglia package holiday you can really see the best of what Puglia has to offer, without getting tired or walking for hours.
How long does it take to visit Bari, Matera, Alberobello and Valle d'Itria?
For this Puglia vacation, we think that 5 days can best combine guided tours with leisure time.Accessible Puglia vacation package: online bookingThis tour is available all year round with the possibility of customizing it by booking at least 15 days before departure. If you need a last minute booking, contact us now and we'll do everything we can to guarantee it.
What else could you see in the surrounding area? Extend your vacation!
If you would like to extend your stay in Puglia for more than five days you could see many other things and enjoy unique experiences. How about another mini-tour in the Itria Valley or in the Gargano. Or, you could take a detour in the magical and now "mythical" Salento? The choices are endless. Check out our other offers and contact us now for more information. We are here to help and create your best Puglia vacation!
0 Reviews
Unfortunately there are no reviews available. Be the first to review Accessible Apulia: 5-day vacation in a rickshaw and Apecar.
know betterbook bettergo better
TripAdvisor Traveler Rating
50 Reviews
More offers from this partner