Organised trip to Matera from Bari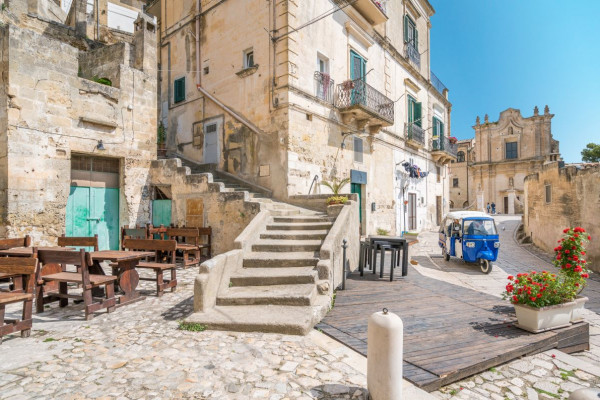 By minivan for a day in the "city of stones".
Are you in Bari and want to visit Matera? Are you looking for the best way to reach it? Well, we have the solution for you! We organize a tour in the "City of Stones" which includes a guided tour and transport service in a comfortable minivan departing from Bari. An opportunity not to be missed if you want to spend an intense day without getting tired.
Leave with a comfortable minivan from Bari (A / R)
Visit Matera, the city of stones
Share the experience with others
Included

Minivan with driver, tour guide in Matera with entrance

Duration
8 Hours
Bring along

⇒ TO PUT IN THE BACKPACK: We recommend comfortable clothing (with something to cover your body for entry to the Churches or in the hot sun!) and good footwear, as the Sassi area has numerous "ups and downs". Bring a bottle of water with you and in the warmer months, a hat. Mobile phones and cameras are a must, and there is the opportunity to take some totally unique selfies.

Languages
English
Opening hours
Requirements

⇒ THIS TOUR IS FOR those who would prefer an organised one-day trip to Matera. It's for those who have arrived in Puglia but do not have their own vehicle or simply don't want to use the car. This tour is for those looking for a convenient way to reach the City of Stones, sharing the costs and experience in a group tour, with a guide to explain and help you find the important places easily.It is not suitable for those with walking problems or those who have difficulty walking uphill because Matera is on a hillside.

Important information

⇒ YOU WILL BE THRILLED as you discover houses and caves carved into the rock, where people lived until the mid-twentieth century. You will be enchanted admiring the panoramic view of the evocative "Sassi". You will understand why this city has been the location of so many famous films ...

 

⇒ WE GUARANTEE you a full, authentic and engaging experience. You will be pleasantly surprised by the things you will discover and it will be love at first…. visit.

 

HOW IS THE TOUR ORGANISED? An exclusive excursion shared with up to 7 people and for those who like to visit without haste. Just a few people and the perfect opportunity to discover the best the city has to offer.Meet your driver in Bari and then set off in the direction of Matera, where a licensed tour guide awaits you. Matera is considered one of the most evocative cities in Southern Italy, chosen as the "European Capital of Culture 2019" and a UNESCO World Heritage Site. You will be fascinated by the discovery of the existence of houses and churches carved into the rock, where some people lived until the first half of the 20th century.You will visit an ancient rock church and the recently restored cathedral, from where you can admire the fascinating panorama of the Sassi and the Murgia Materana Park.
Venue
Hotel Oriente
Corso Cavour, Bari, BA, Italia
Offered by
TURISTI IN PUGLIA INCOMING SNC
- Bari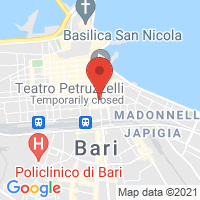 Further information
Our organised trip to Matera with departure from Bari with a total duration of one day (about 8 hours)The walking tour among the Sassi of Matera lasts between 2 and a half to 3 hours. As mentioned, the walking route is made up of numerous ups and downs, with or without steps, to reach all corners of this incredible ancient city.
Why has Matera become a Unesco heritage site?
Matera is one of the oldest cities in the world and dates back to the Paleolithic era but it became famous when it became a UNESCO site in 1993. It has a unique charm thanks to the presence of numerous churches and cave houses carved into the rock, real homes until the 1950s. Its decline began in the 1960s when the "Sassi" (ie the ancient neighbourhoods) were abandoned for hygienic-sanitary reasons. From "shame of Italy" in 2019, Matera was awarded the title of European Capital of Culture, experiencing an important moment of cultural and social rebirth.
How to reach Matera?
If you do not have a car, you can arrive in Bari by train or plane and then opt for a scheduled bus or a transfer service like ours, which also offers you the opportunity to visit Matera in the company of a local tour guide.
How long does it take to visit Matera?
Matera is a real open-air museum, a wonderful intertwining of very narrow alleys that lead to houses carved into the rock, ancient rock churches, art galleries, strategic points from which to admire the view, underground cisterns and history museums, as well as obviously delicious local cuisine! From Bari, with our transfer service, the travel time to reach Matera is about 1 hour. There, our local guide will be waiting for you to take you on a fascinating walking tour lasting approximately two and a half hours.After your tour you will have free time (about two hours) to have lunch or to roam freely in the City of the Sassi and then, at the time agreed with your driver, we will take you back to your starting point in Bari. This excursion lasts approximately 8 hours.
Organised one day trip to Matera: booking
It goes without saying that the Matera group tour is the most popular one, so I recommend that you book your organised trip with a tour guide at least two days in advance to be more relaxed.If you prefer to use your car you can take advantage of our tour of the stones with a tour guide.
Organised group trip to Matera: what to see in the surroundings
To enrich your day in Matera, it is also possible to visit the Murgia Materana Park. We strongly recommend that you also visit Gravina or Altamura, two destinations of great value for different reasons, or add a guided tour in the old town of Bari to complete your day.
0 Reviews
Unfortunately there are no reviews available. Be the first to review Organised trip to Matera from Bari.
know betterbook bettergo better
TripAdvisor Traveler Rating
50 Reviews
More offers from this partner