5 days in Apulia Italy: private Puglia package holidays in Salento and Valle d'Itria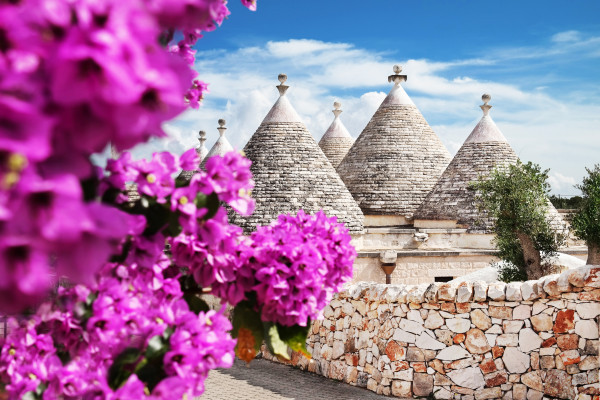 The best of Apulia thanks to our Puglia package tour.
Let yourself be guided by our itinerary in the Apulia Italian region and explore lesser-known sites and marvel at hidden gems. Discover history, legends and curiosities with our expert tour guides in this all inclusive Puglia package tour.
Stay in a lovely hotel in the Itria Valley
Discover the historic centers of Bari, Monopoli, Polignano, Alberobello, Locorotondo, Ostuni, Otranto and Lecce alongside an expert local tour guide
Admire the caves of Castellana
Included

4 nights in a 3-4 stars (hotel in Monopoli) 
Transportation with chauffeur for the entire duration of your Puglia trip
Tourist guides
Entrances fees to monuments

Not included

Dinners are not included

Duration
5 Days
Bring along

⇒ WHAT TO PUT IN YOUR BACKPACK: for this 5-day Puglia vacation in Salento and Valle d'Itria bring with you comfortable clothes suitable for the season and most definitely a great camera or mobile phone to capture all the surrounding beauties. And of course a knack for adventure so you can enjoy every moment of your trip to Puglia Italy.

Languages
English
Opening hours
Requirements

⇒ THIS TOUR IS FOR those who want to visit the most famous resorts of the Itria Valley and Salento without the hassle of trip planning. We have got everything covered. Thanks to our all-inclusive 5 days in Puglia package tour you will visit Bari, Alberobello, Polignano a mare, Castellana caves, Monopoli, Ostuni, Locorotondo, Lecce and Otranto.

Important information

⇒ POPULARITY: 9/10

 

⇒ YOU WILL GET EXCITED admiring the stalactites and stalagmites inside the fascinating caves of Castellana. You will be struck by the charm and beauty of the Itria Valley villages. You will discover historic centers overlooking the Adriatic sea, with its intense shades of blue.

 

⇒ WE PROMISE you will not have anything to worry about during your Puglia trip, we will take care of every aspect of your holiday. You can focus on enjoying your Puglia vacation. Besides, our Puglia travel guides will always be at your side and will help you get the best immersive travel experience. It will be a journey of continuous discovery of land, flavors, nature and art. We will make sure that your travel to Puglia Italy is memorable.

 

⇒ TOUR IN BRIEF: This 5-day Puglia package holiday in Salento and Valle d'Itria starts and ends in Bari, the region's Capital where most air and rail connections are concentrated. You will stay 4 nights in a lovely hotel in the Itria Valley, which is the most popular area of Apulia in Italy, among trulli, masserie, olive trees and dry-stone walls. You will visit beautiful places in the company of a highly-skilled local Puglia guide. From your hotel, you can easily and comfortably visit the Apulia Italian region.

 

SPECIAL OFFER HOLIDAY IN PUGLIA + EXPERIENCES 2022 - 2023

PRICES PER PERSON PRIVATE TOUR (min 2 people)

This option includes a two-night stay with breakfast, private guided tours and transfers by car with driver as mentioned in the program.

€1600 per person in double room

€1700 per person in single room

 

METHOD OF BOOKING: You can book online by selecting the date on the cart or you have the option of paying a deposit of 100€ when you book the tour. The remaining amount will have to be paid 15 days before departure. For this type of booking contact us by sending an e-mail or on Whatsapp

 

CANCELLATION POLICIES:

The tour can be cancelled free of charge 15 days before departure. After this time there will be a 50% cancellation fee. Discount of 50% for kids from 6 to 17 years old. Free for children under 6 years old.
Venue

Bari centrale Station, Bari, BA, Italia
Offered by
TURISTI IN PUGLIA INCOMING SNC
70123 - Bari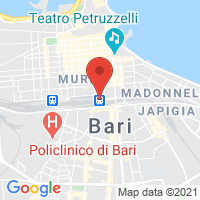 Further information
Are you thinking of visiting the Apulia region in Italy?
Wonderful, you are in the right place. Turistinpuglia.it is a tour operator created in Puglia by two Apulians women. Tailor made travel is our passion and never ending love.Our first-hand knowledge of the region enables us to carefully craft itineraries and Puglia package holidays.We can imagine, design and realize any kind of travel and ultimately we strive to create the best Puglia travel experience.Book our services or holiday packages, choosing among the best private local English speaking tour guides, who will lead you through the discovery of the most beautiful cities and villages. Contact us now and tell us how you imagine visiting our marvellous Puglia region in Italy.
5 days in Apulia Italy: Puglia package holidays in Salento and Valle d'Itria:
PROGRAM
1st day: your Puglia vacation starts in Bari
2nd day: Monopoli/Polignano a mare/Castellana Grotte
3rd day: Alberobello/Locorotondo/Ostuni
4th day: Lecce/Otranto
5th day: end of your Puglia package tour in Bari
5 days in Apulia Italy: Puglia package holidays in Salento and Valle d'Itria Where is the Valle d'Itria ?
It's a part of Apulia in Italy between the provinces of Bari, Brindisi and Taranto. Rurality is the predominant feature of this territory, surrounded by olive trees, dry-stone walls, trulli and masserie.The Itria Valley is the ideal place to stay to visit both the southeastern coast of Bari, and the gorgeous Salento province.
5 days in Apulia Italy: Puglia package holidays in Salento and Valle d'Itria In Puglia where to visit and what to do?
The strategic position of the Apulia Italian region allows you to reach beautiful villages such as Alberobello, Locorotondo and Ostuni but also to explore picturesque seaside villages such as Polignano a mare and Monopoli. Going further south, you can visit Lecce and admire its famous Lecce Baroque. Close by, you will also be able to admire the beautiful cathedral of Otranto and its stunning 12th century mosaics.
Visit Puglia Italy: things to know before traveling Is Apulia and Puglia the same?
These two terms refer to the same region in the South of Italy, Puglia. Apulia is the former latin name given to the region, still used by English speakers. Nowadays, Italians use the term Puglia to refer to this Southern region.
Where is Apulia situated?
Apulia is located in the South East of Italy, on the Adriatic sea, in the heel of the boot. Its capital is Bari. Puglia has an area of 19 223 sq km (7422 sq miles) and it is subdivided in 6 administrative districts ; the metropolitan area of the city of Bari (capital city), the provinces of Foggia, Barletta-Andria-Trani, Taranto, Brindisi, Lecce.
What is Apulia known for?
Throughout the region of Apulia in Italy, there are so many beautiful sites and picturesque locations to choose from, so the must-see list can be quite long. Nevertheless, here is a non-exhaustive overview of what Puglia is known for and what your next visit in Puglia Italy holidays could entail; its mesmerizing architecture (the sassi of Matera, the trulli of Alberobello, Castel del Monte, the myriads of historic centres), its delicious gastronomy (orecchiette, burrata, primitivo wine…), its beautiful landscapes (the Salento coast with its crystal clear water, lush hills filled with centuries-old olive trees, untouched and preserved forests).
Is Apulia safe for tourists? Is it worth going to Puglia?
Puglia is definitely a safe destination. However, we wish to give you some common sense suggestions that can be valid for any destination. If you visit a city, park your car near the historic center. Also look out for parking spaces with blue stripes, these spots have a parking fee. In order to avoid fines, make sure you pay the parking meter. At night, it is preferable to leave your car in a monitored-parking. Usually, the personnel of your accommodation or hotel will advise you where to park.If you go to unsupervised beaches, make sure not to leave any personal belongings in sight.
Is Puglia a good family holiday destination?
Yes, Puglia is a destination for families. There are many activities to do with children, from boat tours to city tours, bike tours, apecar or rickshaw tours. Your whole family will enjoy visiting the zoo of Fasano, but also farms with animals and taking part in cooking lessons.In addition, Puglia has beautiful beaches and also nature and wildlife reserves where you can do trekking and bird watching.
What is the best time to visit Puglia?
The best time to visit Puglia is undoubtedly spring and autumn, when temperatures are mild and there are fewer people. In the summertime, the months of June and September are preferable, because July and August are the most crowded since Italians themselves are on vacation.If you have no choice and you can only travel in the months of July and August, here are some suggestions: if you want to stay on the beach, we recommend that you go early (maybe at dawn, why not?), as after 11 am the beaches start to be very busy. In the hottest hours of the day from 1pm to 4pm, a good idea would be to visit a monument, a park, a winery, an oil mill or a farm. In the early afternoon, a nap is also a good idea, that is what the Apulians do! In the warmer months, the best time to visit a city is at sunset. Another option would be to go to the beach and maybe have an aperitivo while the sun goes down.In reality, Puglia can be visited all year round.Winter is mild and sunny. The Christmas period is cheerful and festive - living nativity scenes, Christmas markets, and artist lights that brighten historical centres.
How is the weather in Puglia?
Puglia enjoys a Mediterranean climate, with hot summers and mild winters. The rains are scarce and are concentrated mostly in Autumn and Winter, hence the name of A-pluvia (without rain). The coldest months are January and February but temperatures rarely drop below 32°F (0°C).Occasionally, it snows in the hilly and mountainous areas (Gargano area and north of Bari). With the onset of spring, temperatures get warmer, even reaching 77 °F (25 °C) at times. June, July and August are the hottest months. On some days, peaks of 104°F (40°C) are reached. September and October are very pleasant months, with temperatures ranging between 64°F (18°C) and 81°F (27°C). Autumn is one of those seasons when, at certain times you can go to the beach, and at others you need a jacket for the evenings are cooler. During the Christmas period it is colder but still pretty mild.
How many days do you need in Puglia?
To visit Puglia in Italy, we recommend at least two weeks of vacation, as it is one of the longest regions in Italy with 800 km of coastline. Puglia has landscapes and places that are also very different from one another. A local historian defined it as a small continent, where you can find mountains, hills, villages, cities of art, sea, lakes, nature reserves, caves, castles and cathedrals. In case you can not afford to spend two weeks, a 6 or 7 day duration is still a decent amount of time that will allow you to visit the main must-see locations. Puglia is a destination that can be easily combined with other Italian regions. On a tighter schedule, you can opt for mini tours which will narrow down specific areas of Puglia, such as Unesco sites.
How far is Puglia from Rome?
Puglia is located 358 km from Rome. From there, you can reach the capital of Puglia, Bari by train, bus, plane, or by car. By train, there is a high speed line connecting Rome to Bari and other Apulian cities. Taking a Frecce from Rome to Bari, the journey will take you about 4 hours. By bus, it is the cheapest option but also the longest, approximately 6/7 hours of travel. By plane, you can take a direct flight that usually lasts an hour.If you have a car, it will take you approximately 5 hours, depending on traffic.
0 Reviews
Unfortunately there are no reviews available. Be the first to review 5 days in Apulia Italy: private Puglia package holidays in Salento and Valle d'Itria.
know betterbook bettergo better
TripAdvisor Traveler Rating
50 Reviews
More offers from this partner