Old Bari guided private tour between orecchiette pasta and St. Nicholas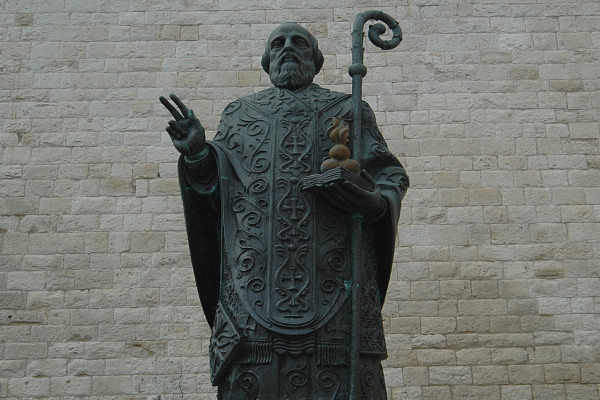 Dive into the Apulian "casba", stroll through the maze of alleyways, take in the scents and flavours. If you really want to get to know the old town of Bari this is the experience for you... not just a simple tour but an marvellous story to relate.
Visit the Basilica of San Nicola
Meet the local people
Stroll through the orecchiette road
| | |
| --- | --- |
| Included | Local tour guide and focaccia tasting |
| Duration | 2 Hours |
| Bring along | ⇒ TO PUT IN YOUR BACKPACK: the desire to deeply touch the soul of Bari and its people, along with the usual comfortable clothing and shoes plus mobile phone or camera to immortalise the most important monuments. A recorder to listen to your first lesson in…. Bari. |
| Languages | English |
| Opening hours | |
| Requirements | ⇒ THIS TOUR IS FOR those who have heard a thousand stories about Bari and would like to find out "what is the real truth, what is Bari really like?" This tour is for those who wish to fully experience the emotional depth of the city and to take part in not in just a simple guided tour of Bari, but an immersive and engaging experience. Ideal for foodies who appreciate local cuisine and the excellence of typical products, but also for young people who would like to discover urban spaces dedicated to special new design. |
| Important information | ⇒ YOU WILL BE THRILLED to discover the arabesque soul of the Old Town of Bari. You will be enthralled by the dialect of the ladies in their doorways, as they prepare orecchiette, and maybe you'll try to exchange a few words with them yourself. You will be thrilled because our "capital" is really magical, full of narrow, picturesque alleyways where colourful clothes hang from balconies, drying in the warm sun, and the scents and sounds from the market of the ancient marina, where freshly caught fish are sold. ⇒ WE GUARANTEE that you will get to know this city thoroughly, seeing it from new and different perspectives. Inevitably, you will have to think, "I didn't expect that". You will be fascinated through a full, authentic and engaging experience and it will be love at first.... Visit.. ⇒ GUIDED TOUR OF BARI IN BRIEF: Meet your tour guide in Swabia's Piazza Federico II and start the visit from outside the Swabian Castle. We continue on towards the orecchiette road and we arrive at the Cathedral of San Sabino, the Basilica of San Nicola. From there, we progress onwards, taking in the sights and sounds until we arrive at the port, with its other sixteenth and nineteenth century monuments and palaces. |
Venue
Swabia's Piazza Federico II (Castle's entrance)
Piazza Federico II di Svevia, Bari, BA, Italia
Bari railway station Ferrovie dello Stato
Offered by
TURISTI IN PUGLIA INCOMING SNC
- Bari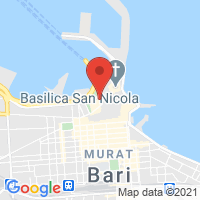 Further information
Why visit Bari old town?
The roots of Bari stretch back to the Bronze Age or beyond, but the prestigious, golden era was in the Roman period, when it was raised to become a Municipium (the exposed stretches of the Via Traiana are evidence of this). A key destination of the guided tour is the Basilica of San Nicola, both from a devotional point of view, with stories and legends of the Saint, and from an artistic and architectural point of view. In recent years the city has grown exponentially from a tourist point of view, it is in fact among the most visited destinations in Puglia.
Did you know that Bari is not only the Apulian capital but also the capital of design and contemporary art, a city with a thousand-year history that has modernised in a new and safe way?
Bari is also an underground city and a religious city with its special devotion to St. Nicholas.What to see on the guided tour of Bari old town?
Bari vecchia (Old Bari) is a city with a thousand different aspects, with the major attractions enclosed in the almost all pedestrian centre of "Old Bari". You can leave your car in the indicated parking lots and walk, relaxed, following your local tour guide. The visit is safely shared with other people, according to the COVID guidelines provided by the Ministry. Groups will be small and facemasks will be used by the guides. The meeting place is in Piazza Federico II in Swabia.
How long does it take to visit the old city of Bari?
The duration of the visit is 2 hours and this takes you amongst the historic palaces, magnificent squares, news-stands that meet along the way; not forgetting Romanesque churches such as the Cathedral, the Basilica and many small votive churches.
Bari tour guide: booking online visits
To book your visit, use the online booking system, select the date and time you prefer, either morning or afternoon. On hot summer days, we suggest a visit from 6pm, which takes you towards the beautiful, warm shades of sunset and a truly magical feast for your eyes to your visit! There are no additional charges on the tour.
Guided tour of Bari: what to see in the surroundings
We recommend that you stop in Bari for a minimum 2 nights. We can also help you book a complete package with overnight stay in the old town or the famous Umbertino district.So you can also then take the opportunity to see Underground Bari and the Bari theatre tour. From your base in Bari it's easy to explore southwards and places such as Polignano a Mare and Monopoli - small seaside towns where you can best discover the essential places and information through a guided tour. Then later, how about spending the rest of the day relaxing in the sun, maybe swimming, on a beautiful blue-ribbon beach? From Bari you can also choose to visit Alberobello with our comfortable and safe tour by minivan.
0 Reviews
Unfortunately there are no reviews available. Be the first to review Old Bari guided private tour between orecchiette pasta and St. Nicholas.
know betterbook bettergo better
TripAdvisor Traveler Rating
50 Reviews
More offers from this partner